Event Schedule Coming Soon - check back for more details...
CONtraflow IX Programming Information & Request Form
Hello Fans. CONtraflow is always looking for the next great program or event idea and participant. That is where Fans like you come in. If you would like to take part in programming at CONtraflow this year, please download and fill out the following form below- then email it back to us care of programming@contraflowscifi.org.
For CONtraflow IX we will be accepting programming requests through October 1, 2019. There is no guarantee that we will find room in our schedule for every proposed panel, but we will let you know whether it is accepted or not. CONtraflow's programing staff is always on the lookout for new events and workshops- so if you just have a suggestion for a program/panel/workshop/special event that you would like to see at this year's con, then send it to the Director of Programming, Rebecca Smith, via programming@contraflowscifi.org.
We look forward to your ideas and suggestions- so send them our way!
CONtraflow IX Programming Event Application WORD
[ ./shared/CONtraflowIXProgrammingEventApplication.docx ]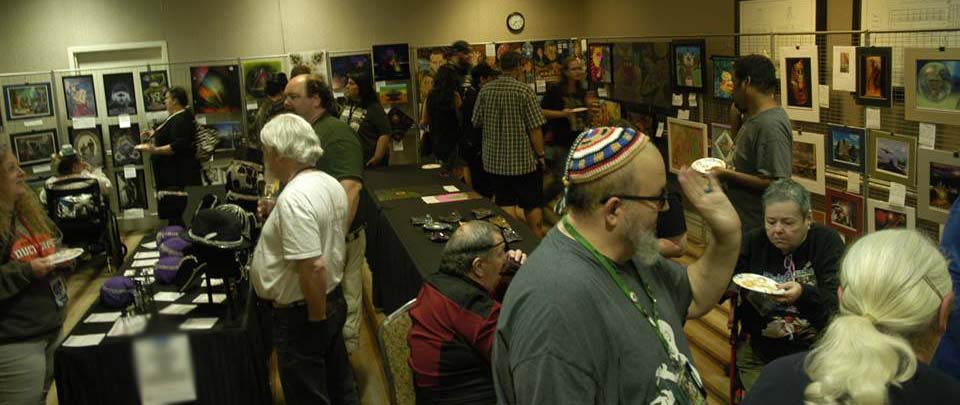 Attention Artists,
Thank you for your interest in the CONtraflow IX Art Show and Sale. CONtraflow is a three-day, fan-run, general science fiction convention with a literary focus held annually in the New Orleans metro area dedicated to the genres of science fiction, fantasy, comics, gaming, and anime/manga.
read more [ ./art-show--sale#more ]
CONtraflow IX Cadet Lounge (Kid Central)
CONtraflow strives to provide fun for all ages. There are panels, parties, games, gaming, films and special events all weekend long-something for every taste and Fandom. However, our convention works hard to provide the next level in everything, so for our younger Fen we offer the galaxy of fun that is the Cadet Lounge.
read more [ ./cadet-lounge#more ]
The CONTRAFLOW IX 24-Hour Game Room
CONtraflow IX Game Room staff has lined up some excellent game events and workshops for you– our regional gamers. We have everything from hands-on game tutorials for new and classic RPG's, LARP's, board and card games, to the super-sized and exciting card, role-playing, board and miniature tournaments you want to play. All the Big Easy gaming fun and the good stuff and all in one of the only large 24-hour game rooms in the Deep South!
To help make this happen, CONtraflow needs YOU! We are again looking for Game Masters who want to run events and tournaments at our convention this year. There is prize support and one of the largest game libraries in the south to help you get started- again, all we need is YOU!
read more [ ./gaming#more ]
Rules, Regulations, and Guidelines
It is very important that you read all the rules!
Costume Contest Event Staff Motto: For cosplayers, by cosplayers.
read more [ ./costume-contest#more ]